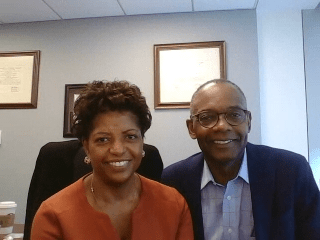 Voices from the Frontlines: Dr. Thomas and Jean
Join us and spread the word to your community
Edwidge Thomas shares a conversation with her spouse, Jean Thomas, about her career in healthcare, about her mother, who inspired that career, and about her commitment to redressing health disparities.
To listen to the full 40-minute conversation, click here.
The "Voices from the Frontlines" project is a partnership between StoryCorps and #FirstRespondersFirst, an initiative of Harvard T.H. Chan School of Public Health, Thrive Global, and Creative Artists Agency that takes a whole human approach to healthcare worker well-being. Audio produced by StoryCorps Studios with interviews recorded by StoryCorps, a national nonprofit whose mission is to preserve and share humanity's stories. Funding provided by #FirstRespondersFirst with additional media sponsorship provided by the Dr. Lorna Breen Heroes' Foundation.