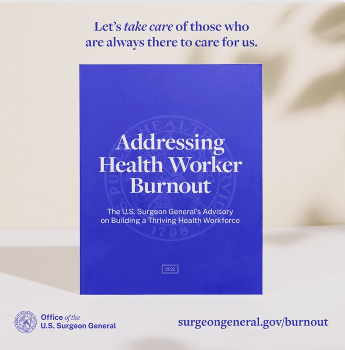 Addressing Health Worker Burnout
Join us and spread the word to your community
During the Covid-19 pandemic, thousands of health workers lost their lives. They put their own health and safety at risk so they could heal and comfort others. This Surgeon General's Advisory is a call-to-action dedicated to their memory.
A Surgeon General's Advisory is a public statement that calls the American people's attention to an urgent public health issue and provides recommendations for how that issue should be addressed. Advisories are reserved for significant public health challenges that need the American people's immediate awareness. 
This Advisory contains steps that different stakeholders can take together to address health worker burnout. It calls for change in the systems, structures, and cultures that shape health care. Given the nature and complexity of the challenges outlined, this Advisory is not intended to be comprehensive in its recommendations. 
For this Advisory, we are defining health workers broadly as all the people engaged in work to protect and improve the health of individuals, communities, and populations, including those who assist in operating health care facilities.
Click here to read the full advisory and view toolkits to generate visibility and cultivate understanding.